A traumatic childhood, domestic violence and tensions all feature in Francesco Jost's Deer Girl. The Italian-Swiss movie was filmed in and around Fortezza
A grey jeep drives on the steep, empty forest road, the silence interrupted only by a fast-flowing brook. A hunter hops out of the car, grabs a bag and rifle, and vanishes into the dense forests. Mario (interpreted by Giorgio Tirabassi, a TV and movie veteran known for his incredible Paolo Borsellino and widely viewed Squadra mobile series) is pursuing his eternal prey: a deer.
The scene is taken from Deer Girl, a film which was shot between 26 May and 18 June in South Tyrol and will hit theatres in autumn. But who is this "deer girl"? What's her connection to this animal? The main character is Rachele (played by 25-year-old Denise Tantucci, who's starred in films and plenty of series, a household name thanks to the Braccialetti Rossi TV series), back in her hometown to celebrate her parents' silver anniversary – Mario and Ania (Anita Caprioli is another veteran and has starred recently in Sorelle per sempre on TV and Vita da Carlo for Amazon Video). And so the deer isn't the true star of this story, rather, love is. Her parents' love is placed on a pedestal and yet behind it lurks a painful past, one which impacted Rachele's childhood. She will now have to face the darkness from her past and her relationship with a father prone to violence while trying to tackle the only question worth answering: what is love?
What is love?
Excellent question. What is love. Just before she returns to filming a scene, Denise Tantucci tells us, "I can't say much about love's role in the film. But that question… in a certain sense, that's what I ask viewers. They can answer in any way which resonates the most with them." What is certain is that Rachele doesn't want to emulate her parents' love, interspersed with violent moments during childhood. Her conflictual relationship with her father in the end leads her to killing that very same deer Mario could never hunt down. And speaking of deer – how did they come up with the title of the film?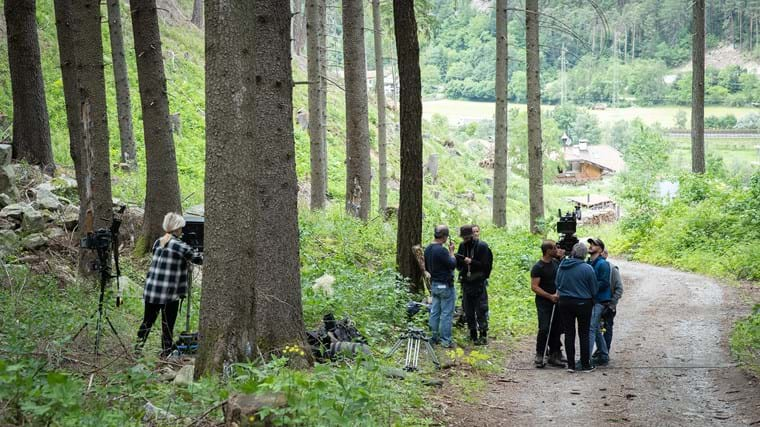 From Lasa's marble quarry to Valle Isarco's impenetrable forests
None other than the screenwriter – and in this case, director – can give us the answer we're looking for: Francesco Jost. He was born in Locarno and got his diploma from the CISA Film Academy in Locarno. While this may be his second feature film, he's got plenty of experience under his belt, having worked on a host of freelance graphic projects and created videos, shorts, and documentaries.
Jost recounts how, "When I started thinking about this story, I'd already decided I wanted to shoot in South Tyrol. The film was supposed to be set in Lasa – I was enraptured with its marble quarries. However, I then thought the village in Val Venosta was too isolated – I wanted something where you could feel the presence of people. Fortezza and its surroundings are perfect: you've got a train station, a motorway... the indoor scenes were filmed in a stunning, ancient home in Varna and the Hotel Post in Fortezza; for the exterior shots we opted for the Mezzaselva forests, Lake Varna and Val Pusteria. As we changed location, the protagonist changed, too: from quarry worker to hunter."
The cast also includes Matteo Olivetti, Anita Kravos and three local actors: Bruno Da Soghe, Bryan Ferraro and young Maya Zacchino, who plays a younger version of Rachele.
Plenty of work – plenty of people to train
Deer Girl is an Italian-Swiss film made by Vivo Film and Ventura Film; the latter was founded in 1991 by Andres Pfaeffli (who passed away in 2020) and Elda Guidinetti in Ticino. Guidinetti says, "This is the third film we've shot in South Tyrol. We like coming here because, besides the actual location, the funding opportunities also go beyond simply allowing us to film the project. To a certain extent, making a film implies creating new skills – not only artistic ones, but technical ones too. Our team consists of numerous locals besides the ones involved in production."
Vivo Film was founded by Gregorio Paonessa and Marta Donzelli. The Italian company has shot a good four films in South Tyrol: Vergine giurata by Laura Bispuri, I figli della notte by Andrea De Sica – which was shot entirely in Dobbiaco – as well as Siberia by Abel Ferrara and another film by Andrea De Sica, Non mi uccidere. When talking about cinema in a Covid-19 world with Paonessa, he revealed something unexpected: "While the cinemas are nearly empty because of the Covid-19 aftereffects, sets are teeming with life. There's plenty of work – the real issue is the lack of qualified people. The local funds are more than welcome as they support production and serve as a way to create important roles locally, people with skills who production teams are desperately looking for."
Take Giuseppe Crudele, ZeLIG film school graduate born in Salerno now living in Bolzano, who acted as Script Continuity on set. Or Mattia Ottaviani: the 26-year-old from Bolzano was assistant camera operator on Deer Girl. Yet Mattia's true passion is operating a steadicam: "I was an assistant operator on Non mi uccidere; I'd seen Giorgio Toso use it [a steadicam] and I'd like to specialise in how to use one. I've attended various courses and I use every opportunity I get to learn more." He's currently also working on a documentary about Michael Gaismair.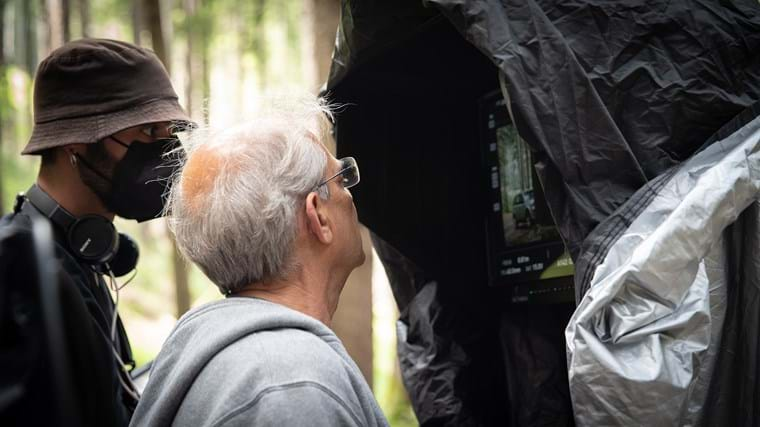 Past and present
We wondered what Giorgio Tirabassi's relationship with South Tyrol is like. He says, "It kicked off early. I was ten when my family and I visited Bressanone. Imagine someone from Rome here for the very first time – it was like discovering a whole new world: forests, mountains, houses with sloped roofs… I came back regularly, although it's the first time I shoot a film here. I did so because I liked Jost's story. We got on well, maybe because he's the director and the screenwriter, so we could get together and talk about my character in greater depth. Mario has unresolved emotional issues which translate into physical and psychological violence carried out against his wife."
And Rachele? Upon returning to a world straddling reality and appearances, where secrets and trauma come to light, she will have to face her past. And transform into Deer Girl.
Text Paolo Florio
Foto © 2022 ventura film, Vivo film